TVexe TV HD User Guide
Thank you for choosing TVexe TV HD freeware
Welcome to TV User's Guide.
TV is a new software application for Windows ® TV emulates the regular television set on your PC, by using the high-speed Internet connection
(xDSL, Cable, LAN, Wireless WiFi, Mobile 3G etc.) for online global television reception, instead of the traditional antenna, satellite dish or cable feeds.
TV is an extremely easy to use application and anyone can find their own favorite stations on TV. No configurations or settings are needed. The intuitive, user friendly interface will give you a pure Plug n' Play! experience.
All you have to do is easily find your desired station, click on the stations name, then sit back and relax...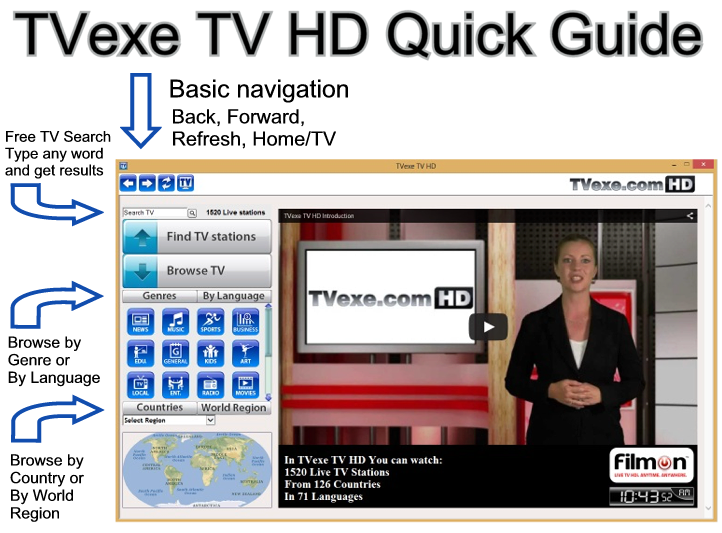 TVexe TV HD Video Tutorial
Technical Notes:
Features
TV features multi-format (Windows Media ®, Flash ®, Silverlight ® ,HTML5).
Live online streaming 24x7 worldwide television.
You don't need to care about the station's broadcasting format.
TV will run the station's live video in a fixed sized screen
TV will switch automatically between formats.
TV Works with any broadband Internet Service Provider (ISP) worldwide.
TV features Live international online channels, 24 hours a day.
With dedicated 24x7 music stations that feature songs (video clips) in:
English, Spanish, German, French, Italian, Russian, Dutch and more...
It's like a free trip around the world; seeing other peoples' style of living,
hearing new languages and music and seeing world views and news.
Now we are ready for world peace.
The Channel Guides
TV features exclusive channel guide technology
The channel guides are updated each time you turn on TV.
Each channel guide streams into TV from a server.
The two active guides are stored in different ways.
The upper channel guide is sorted by subjects like:
Music, News, Educational TV, Sports, etc... And by the station's main language.
The lower channel guide is sorted by world regions,
going from one world or continent (and near Islands), down to each country and it's channels.
TV does not have an internal (offline) channel guide, it receives it online,
which means fresh new channels are added dynamically
as soon as they become available and inactive channels are removed.
About the picture and sound quality
The video & audio of the broadcasts is dependent on the broadcaster's own bandwidth,
The higher the bandwidth the better the picture & sound quality you will receive, HD+.
Of course you need the necessary bandwidth on your side.
It is recommended to watch TV from 1.5-2 meters (5-7ft.) from the screen.
Channel switching
Changing channels may take between a few seconds, and up to 30 seconds and even more (rare).
Channels sometimes may be unavailable due to the servers' overload, Internet traffic jams,
Technical errors on the broadcaster's side, etc. (Please Report inactive streams)
You may try to view this channel again in a few minutes.
Full screen view
Changing to full screen view is very easy
If it's a "Windows Media Player" station then choose Full Screen
Esc to exit Full Screen mode back to TV window mode.
Other Players have their own full screen option.
Firewalls
If you have a personal firewall on your PC.
On the first run of TV it will prompt you with request from TV.exe to access the Internet.
Please allow it (Choose 'Permit') to connect and check the "Always use this action" box.
In workplaces and schools please ask your system administrator to allow TV.exe to connect to the Internet.
Windows Firewall
Windows 10, 8.1/8/7/Vista/Windows XP (SP2) Firewall: Choose "Unblock"
About 24 hour TV stations
Not all stations have 24 hours schedule.
Some stations end their transmission at around midnight local time and go back "On Air" at around 8 O'Clock AM.
You should consider this issue when trying to watch a station from a different time zone.
Remember that TV stations may come from 24 different time zones worldwide.
Minimum System Requirements:
Hardware:

* 1 Ghz. CPU (Recommended 2GHz + Dual core)
* 1 Gb of RAM (Recommended 2GB+)
* 16 bit Stereo Sound card with speakers or headphones. (Recommended 24 Bit sound card + Vintage Stereo AMP and Speakers :)

* 1280x768 pixels or more screen resolution with 16bit (65k) color depth or more.(Recommended HD 1280x800 32 bit true color or Full HD 1920x1080)

Internet connection:

* Broadband internet connection
(xDSL, Cable, LAN, Wireless WiFi, 2G/3G/4G etc.) 512 kbps. (Recommended 10 Mbps or higher)
*Test your connection speed now!
Test your Internet connection speed at comparitech.com
Test your Internet connection speed at Speedtest.net

Software:

* Microsot Windows 10, 8.1, 8, 7, XP, Vista ®.

Favorites

Your favorites will be shown inside Internet Explorer

Support:

Before you contact the support, please make sure your system is fully compliant with at least the minimum system requirements (above), hardware, software and internet connection. Make sure you have turned OFF all running bandwidth demanding applications like: P2P software, downloads, etc. Restart your PC and try again. If the problem persists you may contact: contact us Please indicate your system configuration, software & hardware. All other non-technical issues may be addressed to contact us For more information please visit http://www.tvexe.com

Uninstall:

From Windows Control Panel -> Programs and Features, choose Add / Remove [Uninstall TVexe TV HD]
All other trademarks and logos appearing on TV and/or TVexe.com are the property of their respective owners.